Theosophy; The New Rock 'n Roll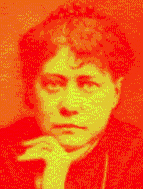 Helena Petrovna Blavatsky
1831 -1891
Theosophy Megastar
______________________
What is the Secret Doctrine?
Although H P Blavatsky wrote loads
of other stuff, this is the big one
First Published in 1888, the Secret Doctrine is the big one as far as Theosophy is concerned. That doesn't mean we can't question it, everything in Theosophy is negotiable.
It is based on Eastern Esoteric Knowledge that was previously the preserve of an inner circle of highly developed Spiritual Masters or Adepts. These guys didn't exactly give it away and H P Blavatsky was specially chosen to receive the knowledge.
The book is in two parts the first is Cosmogenesis
or the origin of the Universe and the second is Anthropogenesis or the origin of Mankind.
You can spend your whole life or longer studying the Secret Doctrine but there are many books at an intermediate and introductory level that explore the ideas. This website and its links are a start.
Where did H P Blavatsky get her information?
The Mahatmas as Ideals and Facts
Masters and Men by Ernest Wood
___________________
Find out more about the
New Rock 'n Roll
Theosophy links
Independent Theosophical Blog
One liners and quick explanations
About aspects of Theosophy
H P Blavatsky is usually the only
Theosophist that most people have ever
heard of. Let's put that right
The Voice of the Silence Website
An Independent Theosophical Republic
Links to Free Online Theosophy 
Study Resources; Courses, Writings, 
Try these if you are looking for a local group
UK Listing of Theosophical Groups
Wales Theosophy Links Summary
Hey Look! Theosophy in Cardiff