Theosophy; The New Rock 'n Roll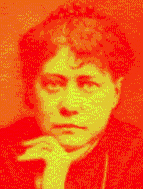 Helena Petrovna Blavatsky
1831 -1891
Theosophy Megastar
______________________
Where did H P Blavatsky
get her information?
H P Blavatsky claimed to have channeled most of the Theosophical teachings from members of an elite spiritually advanced esoteric group known as Ascended Masters or Mahatmas in the Himalayas.
The members of this group who imparted the knowledge to H P Blavatsky were Koot Hoomi (also spelt Kuthumi) and El Morya, who chose her to receive the Teachings.
She later described the Masters as an association called the Great White Brotherhood, who mediate between humanity and the divine
The Mahatmas as Ideals and Facts
Masters and Men by Ernest Wood
___________________
Find out more about the
New Rock 'n Roll
Theosophy links
Independent Theosophical Blog
One liners and quick explanations
About aspects of Theosophy
H P Blavatsky is usually the only
Theosophist that most people have ever
heard of. Let's put that right
The Voice of the Silence Website
An Independent Theosophical Republic
Links to Free Online Theosophy 
Study Resources; Courses, Writings, 
Try these if you are looking for a local group
UK Listing of Theosophical Groups
Wales Theosophy Links Summary
Hey Look! Theosophy in Cardiff