Theosophy; The New Rock 'n Roll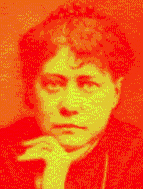 Helena Petrovna Blavatsky
1831 -1891
Theosophy Megastar
______________________
Evolution – Theosophy Style
You have to go down to go up
This explanation is applied to Human Evolution but please remember that everything in the Universe is evolving on the same principle.
In Theosophy, evolution is spiritual as well as physical whereas Darwin just dealt with the physical.
We start out as Spiritual Entities but you don't get any experience for your evolution if you remain spirit. Spirit can't get its hands dirty so you need a vehicle and in our case this is a physical body.
Spirit effectively descends into matter in the form of the human body it enters and then having gained experience (hopefully) will then rise out of it. The general idea is for us to evolve by continually dropping down into matter (taking physical form) and then coming back up again. This process is known as Involution and in Theosophy this is an integral part of evolution.
Of course progress will be made and this is on an upward spiral in which although we descend into matter, both our Spiritual Entities and even the physical bodies we inhabit will slowly evolve.
___________________
Find out more about the
New Rock 'n Roll
Theosophy links
Independent Theosophical Blog
One liners and quick explanations
About aspects of Theosophy
H P Blavatsky is usually the only
Theosophist that most people have ever
heard of. Let's put that right
The Voice of the Silence Website
An Independent Theosophical Republic
Links to Free Online Theosophy 
Study Resources; Courses, Writings, 
Try these if you are looking for a local group
UK Listing of Theosophical Groups