Theosophy; The New Rock 'n Roll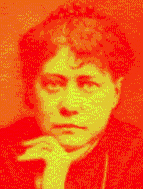 Helena Petrovna Blavatsky
1831 -1891
Theosophy Megastar
______________________
If our Physical Bodies are renewed over a
seven year period,how is it that we can
still recognize ourselves in the mirror?
That's how it works. You are losing material from your body all the time and you are made from completely different stuff than you were seven years ago.
Theosophy postulates that in support of our physical body there exists what is known as the Linga-Sarira (Sanskrit) or model body. This does an important job as atoms are leaving and joining our body every day and something is needed to maintain our physical identity.
This body acts as a template for the physical and is in existence even before we are born. It is composed of what we call Akasha which is the principle or substance which supports the form and attributes of the physical world.
___________________
Find out more about the
New Rock 'n Roll
Theosophy links
Independent Theosophical Blog
One liners and quick explanations
About aspects of Theosophy
H P Blavatsky is usually the only
Theosophist that most people have ever
heard of. Let's put that right
The Voice of the Silence Website
An Independent Theosophical Republic
Links to Free Online Theosophy 
Study Resources; Courses, Writings, 
Try these if you are looking for a local group
UK Listing of Theosophical Groups